Whether your pupils are 4 or 18, our Laughter Yoga in Schools service is centred around stress management and Laughter Yoga.  Laughter Yoga is an excellent addition to any school curriculum, offering support in learning,  as well as bringing greater confidence, self-esteem and resilience to pupils.
Make things happen and laugh!
Our Laughter in Schools offering, means we can create a bespoke and tailored approach to suit your school, whether you would like a laughter "taster session", a one-day laughter event, or a full integration into your curriculum across the year.
Laughter can support pupils at all stages of their learning, and whilst it needs to be tailored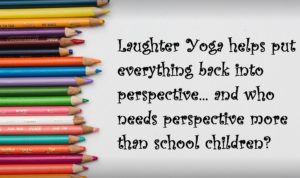 to suit different ages and requirements, the principles are the same – using the beneficial psychology and physiology of Laughter training to bring about positive and deep-seated effects.
Choose from:
Laughter Yoga sessions in school
Laughter Yoga for assemblies and events
Laughter Yoga training for staff and parents
Laughter facilitation training for events and activities
Laughter Yoga products, including DVDs
Laughter Yoga CPD
Our activities and services in schools are not just in-school! We offer a selection of training and Laughter support, that can be used for parents, after-school and even holiday care.
Learn to be a Laughter Leader!
And – we are fully trained to train you! If YOU would like to deliver Laughter Yoga sessions in your school, then we can train and certify you officially to become a certified Laughter Yoga Leader, an internationally recognised certification with Laughter Yoga International.