How to set up a Laughter Club
Once you have trained as a Laughter Yoga Leader you may want to set up your own Laughter Club.  People come along and enjoy the benefits of laughing together. Meet new people, improve their health and … have a laugh!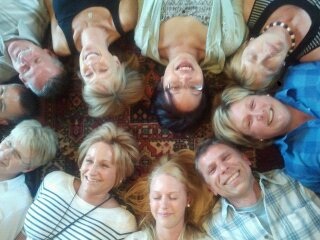 Most Laughter Clubs are held in church halls, a pub function room, or any other community social space, where a warm welcome is enjoyed by all.  We enjoy a one-hour laughter session (no leotards, lycra or awkward poses!) followed by relaxation and grounding.
Many people who come along to Laughter Sessions enjoy real benefits.  One local lady said it helped tremendously with pain relief.  Another said it helps her to relax and unwind after a stressful day.  A Somerset man, who is trained through Creative Laughter, said he uses laughter to help him in some very stressful life situations.
The proven benefits of Laughter can help to:
Reduce stress
Boost creativity
Increase oxygen levels
Reduce blood pressure
Strengthen immune system
Improve health
Enhance Moods
Reduce Pain
Improve Self-Esteem
Enhance Learning
… and much much more.
FULL TRAINING TO SET UP YOUR OWN LAUGHTER CLUB IS GIVEN DURING THE 2-DAY LAUGHTER YOGA LEADER TRAINING.
To run your own Laughter Club, then train with Creative Laughter, here.