Laughter Training for business
We offer a full service in Laughter Yoga training for business.  Our training is flexible and designed around your needs. It includes visiting your organisation to provide regular Laughter Yoga sessions right through to training your staff to provide your own Laughter sessions.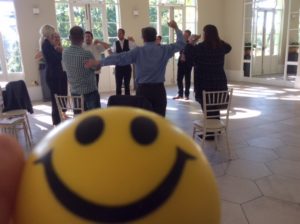 Our Laughter Yoga Training can be in-house or at an open course. We often run courses for both the Midlands and the South West.  Our partners also offer Laughter Yoga Training in the North West and North East. Please contact us for more information.
BENEFITS OF LAUGHTER IN BUSINESS
Laughter is a proven means of stress-release, it's great for helping people to connect with others, and it can really take people out of their comfort zones.
Try Laughter Yoga for:
– stress management
-creativity training
-team away days
-dealing with change and learning curves
-supporting new teams
-re-energising old teams
-just doing something new, out of the ordinary, and fun.
OPEN LAUGHTER COURSES FOR COMPANIES
Please register your interest by emailing us or using our contact form, and we will let you know as soon as the Open Course is available in your area.
BESPOKE COURSE FOR YOUR ORGANISATION
Please contact us to discuss your requirements in full. We have an extensive fact-find in order to create the perfect Laughter Yoga course for your business
WANT TO HOST?
We can offer preferential rates for organisations that may wish to host an Open Course at their company.  In these situations, the course would still be open to people from outside the company, subject to your approval. Please contact us to discuss.