Dawlish Devon Laughter Club is open to all
Come along and enjoy the benefits of our Devon Laughter Club. Meet new people, improve your health and … have a laugh!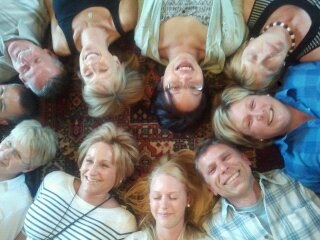 The Dawlish Laughter Club is held at the Mount Pleasant Inn, Dawlish Warren, where a warm welcome is enjoyed by all.  We enjoy a one-hour laughter session (no leotards, lycra or awkward poses!) followed by relaxation and grounding.  Then we'll often have a social drink together.
Many people who come along to our Laughter Sessions enjoy real benefits.  One local lady said it helped tremendously with pain relief.  Another said it helps her to relax and unwind after a stressful day.  A Somerset man, who is trained through Creative Laughter, said he uses laughter to help him in some very stressful life situations.
The proven benefits of Laughter can help to:
Reduce stress
Boost creativity
Increase oxygen levels
Reduce blood pressure
Strengthen immune system
Improve health
Enhance Moods
Reduce Pain
Improve Self-Esteem
Enhance Learning
… and much much more.
The club is currently free to join and free to attend if you have trained on one of our Creative Laughter Yoga Leader 2-day trainings.  Otherwise, just £5.95 a session – or join for the year at £48.  Please book your space through http://laughteryogadawlish.eventbrite.co.uk/
Our Devon Laughter Club sessions are held at the Mount Pleasant Inn, Dawlish Warren, Devon.  Club times usually from 6:30pm to 7:30pm
Dates for 2013
For more information: please contact Sue Haswell on 01626 864458 or use this form to contact her: